SMS Management
Want to market through messaging with bulk.?
We can get you the best bulk messaging and unique method to market your product.
---
With mobiles getting accessible to almost every second human, the reach of SMS is gearing up thus, fast becoming effectual way of communication. It has the ability to resolve barriers of communication massively. It is the base of sharing information in a manner that the same message can reach a lot more people. Ever thought of sending a New Year greeting to 80-90 people without having to type the same message again and again well a simple answer to that query is "SMS Messaging System" or "Mobile Marketing". It allows you to send bulk messages in a very effective manner.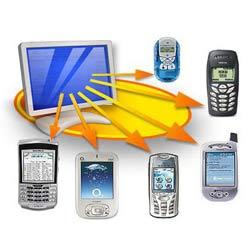 SMS messaging system or Mobile Marketing is all about communicating effectively.
With times changing it has expanded its reach to different spheres like:
1.Complaint management: The best medium of complaint submission in times to come will be SMS. Via SMS customers can submit their queries and complaints thus, incurring a fast and good response.

2.For greetings or bulk messaging: SMS messaging system allows you send bulk messages to a group of people without typing the same message every time. Today, Short Messaging System is very effective medium of communicating. It's like sending greetings of New Year to more than 80-90 people so that you don't miss out anyone. Moreover, the cost of bulk messaging cuts the cost of single messages.

3.Product information: With reach of SMS expanding widely companies have all geared up communicating with the customer effectively by advertising via SMS. The service providers generally tend to send most of the details of the product and attractive offers for increasing response to the product using SMS.

4.Feedback of customers: SMS is fast becoming the medium of getting "customer feedback". It's all about because it's short and effective in reach. SMS facility is being widely used today for getting customer's feedback. For example: if a competition is being held then the most acceptable manner of involving audience in the function is by gathering votes for contestants through SMS.

5.Effective communication: SMS is the best medium when you don't want to talk but still want to communicate. The idea is of effective communication as words display the true emotions of heart. What we cannot speak its always better to express in writing!!!